The big secret here.
9:32 AM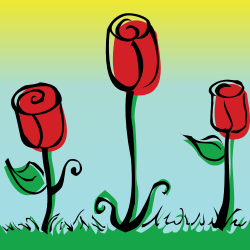 It ain't all roses...
I know I'm not the only one going on bad dates in this piece.
But every time I conduct research (Google search) for dating in Charlotte, I get links to dating sites and success stories. What is the big damn secret, Charlotte? Why y'all always want to hide the bad and the ugly, the body-shaping garment, rollers, bunions and corns that make up the Queen City? It ain't all cute.
And no I ain't that picky. Tired? Yes. But not picky.
And yes, I complain too much for my own snarky good. But maybe I'm just not used to sugarcoating just yet.
FOX Charlotte
shared a dating site months ago,
SurvivalistSingles.com,where those who believe this year marks the end of the world can be together -- forever. It took some digging to find this, but here it is, some proof that Charlotte's scene is just as effed up as the rest of country.
Some proof: On the other hand, this damned site is a national site and there aren't too many Carolinians signing up. The site founder is from the Midwest.
Where are the QC nutcases? The mofos who "forget to pay" the bar tab? The dude who is 75 pounds heaver than he appears in his online profile? I am finding these clowns here, so what's good with the rest of Charlotte?
Dating here is as comical as I type, and as sad as I am trying to make it appear in this post.
(image source: http://openclipart.org/detail/63163/roses-by-pianobrad)