The perfect punishment for fraudulent behavior
11:38 AM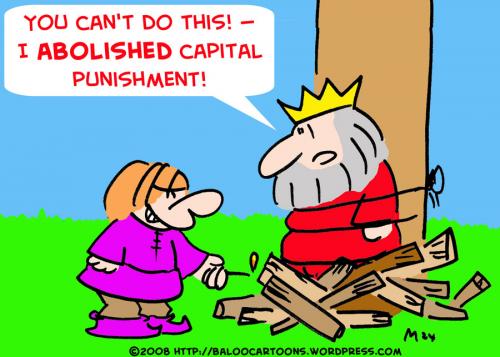 courtesy: toonpool.com
Recently my 9-year-old nephew found himself on punishment after a weak attempt to forge the signature of my sister-in-law. His "copy" of her John Hancock was a mess; even a blind teacher can see it was a fake.
So this weekend, he's on punishment. No TV, no outdoor fun, nothing that will allow him to have a Happy Mother's Day Weekend.
Go sis-in-law, for exercising the God-given right as a mommy this weekend. We are always on the job.
Meanwhile, I am thinking about punishment as it applies to grown men (and not in the freaky way). Osama bin Laden was killed almost a week ago for perpetrating a fraud as a leader, calling himself convincing others that 9-11 and other violent attacks he was responsible for, were valid. Uh...wrong!
What about other men, mainly...yes...the ex?
The dude committed the fraudulent act of being in love with me. I was convinced and in some instances I believe he was convinced too. What's the fitting punishment for that? I'm glad you've asked:
Revoke his effing privileges
- Let's face it, in our hey-day it helped with the convincing. Don't judge me!
Hours of Lifetime and WeTV
- Nothing says "take that, take that" (in my Diddy voice) like the show "Snapped" and the classic that started it all, "The Burning Bed".
Daycare sentence (in the hood)
- Let that mofo pick up the poop of Bebe's kids, and have LaQuisha and 'em cuss his arse out for feeding Lamont peanuts when everyone knows he's allergic to 'em.
*drumroll please*
The ultimate punishment for the guy I almost married: Let him find out how much better I am doing,after three months, without him.